We will help eradicate digital poverty
We pride ourselves on bringing technology to more people through our competitive pricing, access to online and physical stores, and affordable and responsible Credit offering. But that's not all: because our social purpose is at the heart of what we do, we also support causes that help those who might otherwise be excluded.
We want everyone to be able to enjoy equal access to the benefits of technology. Operating across eight countries, our approach is tailored to meet the needs of each region and their relevant socioeconomic conditions.
Wherever we operate we can help:
Our colleagues help people in their local communities access and enjoy tech.
Our customers help us raise funds to help those who are digitally excluded.
Our suppliers work collaboratively with us to be a force for good
Read our Social Impact Principles.
Our priority is helping eradicate digital poverty in all countries we operate in. We support the Digital Poverty Alliance's definition and consider digital poverty to be the inability to interact with the online world fully, when where and how an individual needs to.
Read more about Communities in our Annual Report.
Digital Poverty Alliance
We are one of three founding partners of the Digital Poverty Alliance (part of the Learning Foundation, registered charity number 1086306) alongside the Institute of Engineering and Technology ('IET'). We continue to be an active and engaged member of the DPA's Founders Board and Community Board, providing advice on strategy, longer-term capability and horizon scanning.
We're proud of our role in enabling them to convene, compel and inspire collaboration within the UK community to lead sustainable action against digital poverty. The DPA celebrated its first birthday this year and published a One Year On Report setting out their achievements in their first 12 months.
Read more in the DPA's One Year On Report on their website at https://digitalpovertyalliance.org/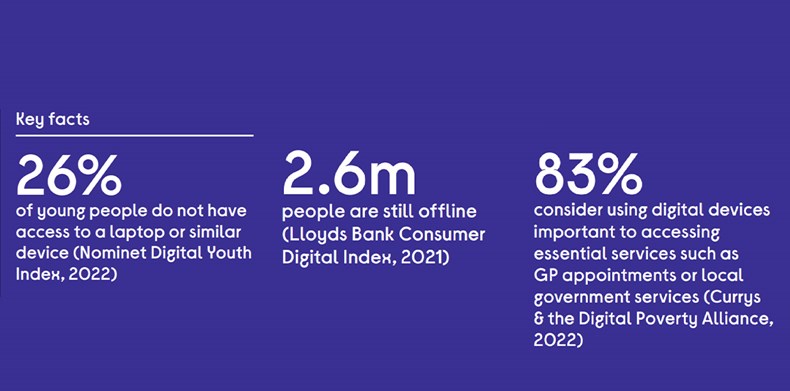 Tech4Families
It's never been more important to make sure families can get online. One way we're doing this is to help families who need a laptop to get one. During the year funds collected from our stores in the UK have supported vulnerable families in need by providing life changing access to digital technology through Tech4Families.
This year we raised over £244,000 through Pennies. 10% of the donations made at the point of sale in Currys stores directly support Pennies to grow the microdonation movement, the remaining 90% funds Tech4Families.
Find out more about Tech4Families, including how to apply, at https://digitalpovertyalliance.org/tech4families/
Local Fundraising
Community fundraising is encouraged right across Currys, and each year our colleagues support many causes which resonate locally.
Our UK Retail colleagues have climbed, ran, cycled, dressed up and completed incredible challenges to raise thousands of pounds for charities important to them.
Fighting digital exclusion in the Nordics
Through our annual research, Techno Trouble, Elkjøp have identified a number of groups that due to age, socioeconomic status, disabilities, language and cultural barriers, or other matters, find themselves on the wrong side of the technological divide in the Nordics.
The survey enables us to keep track of customer challenges when it comes to technology. For example, this year the research showed:
one out of three people in the Nordics find it difficult to keep up with the changes in technology;
42% say they have products at home that they do not know how to use;
people over 60 worry the most about keeping up with digital development;
one out of three respondents say they would stay more in touch with relatives over 75 if they were active on social media.
The Elkjøp Foundation was established to fight digital exclusion. It works to raise awareness, increase knowledge, and enable access to people who are falling behind in the rapid development of technology. To connect, play or learn with technology should be easy and fun but that is not always the case. That is why The Elkjøp Foundation supports organisations and associations with products and guidance – in addition to financial resources.
In addition, Elgiganten Denmark and Gigantti have held in-store training sessions for the elderly together with local senior organisations – showing them the amazing world of technology.
We bring technology to everyone everyday
Technology plays a vital role in every aspect of our lives, whether it's helping you stay connected with friends and family, working from home, or keeping you fed, clean, fit, healthy and entertained. While our focus is on eradicating digital poverty, we also aim to support other causes, charities and communities that are important to our colleagues.
Second Home
Kotsovolos have relaunched its Second Home programme, designed to extend the life of customers' old products – functional or damaged – by providing them to people in need. Through Second Home, customers who have a product they do not use have the option to offer it to a family that cannot afford one. Kotsovolos undertakes collection, repair and disinfection of the product, and then offers it to another family. If the appliance cannot be repaired, the product is redirected to their e-waste handling process. The programme is a great example of the interconnection of sustainability issues and how circular economy solutions can generate positive social impact.
Good Deed Day
Good Deed Day was established by Kotsovolos in 2013. It is the biggest volunteer action for Kotsovolos' colleagues and takes place once a year. Every year, more than 1,000 volunteers from our stores, offices, warehouses and distribution centre participate in multiple activities focusing on children, minority social groups, older persons or the environment. In 2022 more than 1,600 employees organised and participated in 45 different projects for the 9th consecutive Good Deed Day, held on 23 October. For example, 600 people joined together to carry out a beach cleaning activity at Schinia, a coastal ecosystem, with the guidance of iSea, an environmental organisation specialising in protecting the aquatic environment. 50 bags of litter were collected, of which 6.5kg were recyclables and 90kg were waste materials.
The initiative 'Technology without Obstacles' highlights Kotsovolos' efforts to empower people to live a better life with technology by aiming to maximise access to technology for people with disabilities. The programme deals with accessibility in both the physical and digital world, Kotsovolos products and touchpoints such
as stores, websites and call centres. For example, 14 accessible stores are already recognised by the Hellenic Society for Protection and Rehabilitation of Disabled Persons as accessible to people with disabilities and there are plans to achieve this for an additional 19 stores by the end of 2023/24. Further, a dedicated microsite explains all supportive technologies segmented into three categories: visual impairment, hearing disabilities and mobility impairment. More than 3,100 products with supportive technology specifications and filters have already been added to Kotsovolos' website.