We will improve our use of resources and create circular business models
Our relationship with tech needs to change and as the #1 tech retailer in all the markets we operate in, we're uniquely placed to lead the way in changing this relationship. We believe there's a far better way – better for customers, better for us, better for communities and better for the planet. And that better way is to give technology a longer life.
We all love new technology and want to feel good about buying a new piece of kit. But we also know that electronic waste is the world's fastest growing waste stream and is expected to grow to nearly 75 million tonnes by 2030. We have to face facts: we can't keep throwing stuff away.
At Currys, we don't just sell amazing technology; we save it too. It's not just good for the planet, it's also great for your pocket. For example, our UK & Ireland 'Cash for Trash' campaign encourages Brits to give Currys their unwanted tech in return for a £5 voucher.
As the leading technology retailer in all our markets, with the ability to serve customers in-store and online, we are in a prime position to make a difference and help our customers extend the life of their tech. So, here's how we're doing it at every stage of the product's life.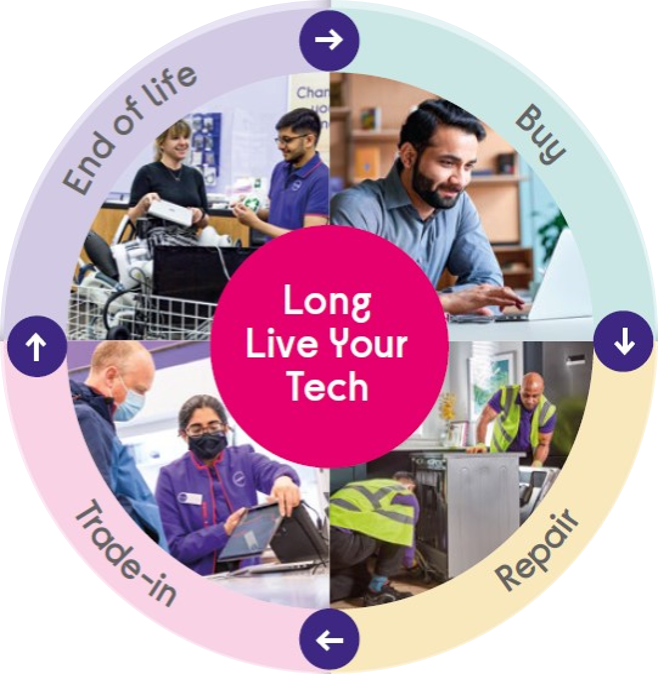 Key facts
Across our Group in 2022/23
18 k+
products made available for re-use
103 k
tonnes of e-waste collected for re-use and recycling
When you buy amazing technology
We know our customers are looking to reduce their impact on the environment, and it's our job to make that easier, which is why we help customers make more sustainable buying decisions. From energy efficient washing machines and ovens to water efficient dishwashers, we're working hard with our customers and suppliers to help everyone make better choices.
As part of our move towards circular business models Currys and Elkjøp have started selling refurbished tech through their online platforms. Elkjøp Norway have focused on selling refurbished white goods through their online platform in partnership with Norsk Ombruk. These are products Norsk Ombruk collect at Elkjøp stores, refurbish and prepare for a second life.  Meanwhile Currys in the UK trialled selling pre-owned mobiles, laptops and Chromebooks with 80% of refurbished product lines sold-out within a week of being on sale. We sold more than 4,700 items in our refurbished tech trial on www.currys.co.uk.
When customers buy our amazing technology, we can help protect it from day one with our range of care services and tech insurance plans. Customers want to enjoy technology and that's why, through our care services and tech insurance plans, 14 million of our customers are getting peace of mind and giving their new technology longer life. This year we launched tech insurance in the UK, our plans are a promise that we'll help customers give technology longer life if something goes wrong.
When you need help to repair it
Our care services and tech insurance plans are a promise that we'll help you give your technology longer life
if something goes wrong. And we're delivering on that promise.
We've been repairing tech since the 80s. Last year, we made 1.3 million repairs across the Currys Group.
We have over 1,200 skilled colleagues working to giving tech longer life in the UK & Ireland, 999 of whom work in Europe's largest repair lab, our Customer Repair Centre in Newark. This year we've completed over 380,000 customer repairs in Newark and our 223 field engineers carried out over 225,000 repairs in home. 83% of those were completed on the first visit, up from 78% in 2021/22. Further, we launched RepairLive, an on demand speedy repair service, available via video call for laptops and TVs. Our repair experts help customers identify the cause of a fault, undertake DIY fixes and assist with arranging a repair. The team conducted over 10,000 video calls with customers in their first year, with almost half of the issues being resolved during the call, avoiding the need for a return.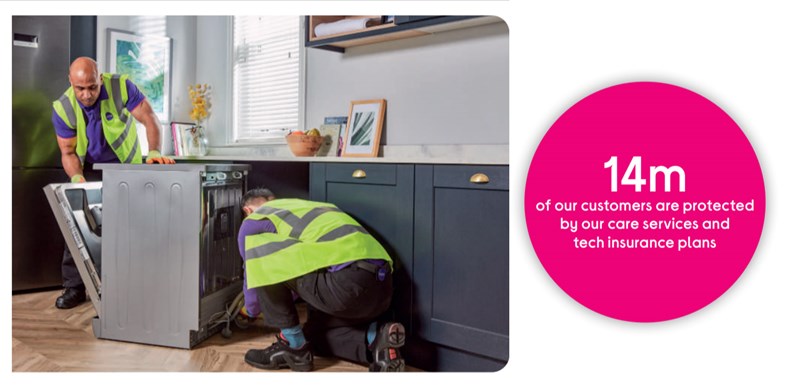 In Europe, Kotsovolos operate a 32,000 sq ft repair centre, a 13,000 sq ft spare parts warehouse and 58 service points in Greece. In 2022/23 more than 170,000 services were carried out at service points, in customers' homes and at our repair centre to give tech products longer life. Elkjøp have repair centres, Elcare, that employ 268 skilled repairers in Norway, Sweden and Finland, with support specialists in over 400 stores.
We continue to explore how we can minimise the environmental impact of our repair operations. In the UK & Ireland we have repaired rather than replaced 24,000 parts, with the largest categories of activity being large screen TVs and computing. This reduces the requirement for new parts and e-waste, whilst saving over £2m in the process. We have also continued our parts harvesting programme, taking useful parts for reuse from products that are no longer fully functional or economical to repair.
When you're ready for something new
Trade-in is the bridge between old and new tech. When you want to upgrade, we do it in a way that's good for your pocket by using the trade-in value to make sure your new technology is more affordable. We'll also give it longer life in a different form to somebody else. We'll try to refurbish and reuse the tech. We can sell it second hand or we'll donate it to those who need it most.
In the UK, we're now offering trade-in promotions on a wider range of categories including TV and small domestic appliances. 108,000 products have been traded-in, with an average value of £130 being given to customers in 2022/23.
When we can, we repair and refurbish products to support local causes and low-income families. In the UK & Ireland we provided thousands of products for reuse last year. This was achieved through our partnership with the Reuse Network and the charities and social enterprises they support across the UK. This helped 9,311 low-income households save £1.75m in 2022/23. And through our work with the UK's largest independent recycler of e-waste and provider of reuse, Environcom, we have supported major UK charities with 4,039 refurbished white goods. We also provided refurbished items to specific causes, including those in need via our Tech4Families programme.
It's not just in the UK & Ireland that we're making a difference. Through the 'Second Home' programme in our Kotsovolos stores, more than 1,000 refurbished appliances have been distributed to families in need since 2017. This means our customers can enjoy our amazing technology even more, in the knowledge that they are using a product that is good for their pocket and better for the planet, and that can be enjoyed again by others.
When it's reached the end of life
We want everyone to bring their old or unwanted tech into our stores to be reused or recycled for free – whether they bought it from us or not. If we can't reuse it, then we can harvest the parts which can be put to good use by our amazing repair colleagues in our repair labs. Or we can recycle it.
Currys have worked on responsible recycling for many years. We provide free in-store drop off and collect our
customers' unwanted electrical equipment and small electrical appliances for recycling when we deliver their new technology. We currently collect more than 100,000 tonnes of used tech for reuse or recycling every year across our Group – that's more than the combined weight of 50,000 London black cabs.
We're proud of our achievements but we know there is more to do. In the Environmental Audit Committee's Electronic Waste and the Circular Economy report, it states that the UK is one of the world's largest producers of e-waste, with 23.9kg generated on average, per person, and that there are 190,000 tonnes, equivalent to 527 million small, old, unused electronical items, hoarded by UK households.
New research undertaken by Currys in 2022/23, found that over 50% of Brits bin their redundant tech products when they buy upgraded products. In order to incentivise recycling of e-waste we trialled a programme in the UK & Ireland, Cash for Trash; our first ever scheme that rewarded customers with £5 for old and unwanted tech that they recycled with us.
Following success of the trials, in January 2023, Cash for Trash was made a permanent feature, meaning any customer can head into their local store and hand in any tech, from keyboards to kettles, to receive a £5 voucher that they can then use in-store or online. The programme was also expanded with customers now also able to receive 'Cash for Trash' vouchers at home when Currys delivers a new appliance and the customer gives back any redundant products. Currys also piloted a new collection service, Currys Collects, with experts on hand at drop-in sessions to raise awareness on how to recycle old tech correctly. We've also been working to incentivise recycling in the Nordics too. By combining the need for electronics recycling with the world's most played computer game, Minecraft, Elkjøp and Microsoft created Urban Miner. The campaign reached millions of people through social media and led to more than 17 tonnes of old gadgets being collected for recycling.
Collaborating with others
Giving technology longer life shows how purpose and profit can – and must – go hand in hand. We're doing the right thing and making a profit – and that means we're in it for the long-run. We're leading the way in changing everyone's relationship with tech for the better.
We are helping to accelerate industry change by working with others. We have continued our membership of the Circular Electronics Partnership ('CEP') which brings together experts, business leaders and global organisations to set a vision and roadmap to a circular economy for electronics by 2030. We've contributed to the roadmap review and action plans, and have supported the design of a pilot to increase the takeback of electronics.
Product packaging
Plastics and packaging is one of the key challenges we aim to solve, and we're prioritising a number of ways to help reduce, recycle and reuse it. We're working to reduce product packaging and encourage suppliers to eliminate unnecessary plastics and packaging. We're committed to making all our own label and licensed brand packaging reusable or recyclable by 2023. At the end of 2022/23, over 99% was recyclable, with 81% recyclable at kerbside based on UK infrastructure. 69% of the remaining 19% of plastic that cannot be recycled at kerbside is expanded polystyrene ('EPS').
We remain committed to finding solutions that reduce environmental impact whilst also protecting the product from damage. We will report on our progress against this commitment at the end of 2023/24. Whilst we continue to work on solutions, we provide an in-store takeback scheme for TV packaging, including EPS.
In the UK & Ireland, we also offer our customers a free packaging recycling service when we deliver and unbox large household appliances. We proactively work with suppliers of own label and licensed brand products to reduce packaging. In 2022/23 we removed 3.6m items of plastic packaging from own label and licensed brand products – over 120 tonnes.
Since the start of the initiative in 2019/20 we have removed over 6m pieces equivalent to almost 180 tonnes. This equates to a 14% decrease in the percentage of plastic packaging used and the average weight of plastic per product has reduced by 28%.