Following our highly successful trial across the Northwest of England and Wales, today we are announcing the launch of 'Quiet Hour' in store every Monday to Friday* until 11am. For the first hour of the day, we're reducing noise in-store, keeping lights low and making sure there are no flashing screens to ensure a calmer place to shop, better supporting our neurodiverse customers.
To help support our new initiative, we have joined the Hidden Disabilities Sunflower network, to give customers a discreet way to signify that they have an invisible disability and may need some help and extra time. The Sunflower lanyards will be available for customers to pick up in any Currys store across the UK.
At Currys, we exist to help everyone enjoy amazing technology. We know that for our diverse customers, especially our neurodiverse customers, while tech plays a vital role in their lives, going into a Currys store with all the flashing lights, loud noises and tech displays can be daunting.
Currys Quiet Hour is a dedicated time where we change the shopping experience in-store to be more accessible for certain customer groups who may be impacted by different sounds, lighting and sensations in store. This is most beneficial for neurodiverse customers who have conditions such as ADHD, Dyspraxia, Dyslexia, Autism and many others. It's estimated that 1 in 7 people (more than 15% of the UK) have neurodiverse differences, and we decided that we needed to adapt to better suit our diverse customer base. We're working with We are Purple and Hidden Disabilities Sunflower who specialise in hidden disabilities, and they will help us to better support these customers.
"I am really proud of this initiative, which shows our commitment to making Currys a place where everyone feels comfortable to shop. It's a really big step for a retailer of our size and scale, and really demonstrates our commitment to diversity and inclusion. The feedback from the trial was overwhelmingly positive, and I am delighted that we are becoming a more inclusive retailer."

Paula Coughlan

Currys' Chief People, Comms and Sustainability Officer
Examples of the in-store environment during Quiet Hour include:
The majority of sounds will be reduced and consistent throughout the store
As customers walk around there won't be multiple sound sources, so whilst most of our tech will be switched on, sound will be off
All TV's and screens will be switched off
If a customer requires a demo of sound, we will do this assisted and we will be extra courteous to other customers close by
We will offer a sensory map by store - this will help customers identify areas that may be a triggering environment, it will also highlight quieter areas of the store where customers can go if they start to feel overwhelmed
We will offer customers with non-visible disabilities a Sunflower lanyard if they wish, a discrete way to let others around them know that they may need a little extra help whilst shopping.
"Currys is the biggest and first electrical retailer to join the Hidden Disabilities Sunflower network. Their work to incorporate the Sunflower into the Quiet Hours shopping experience is of huge benefit to not only neurodiverse customers but also to people with other disabilities. The relaxed atmosphere will allow customers to browse and decide which purchase is right for them without feeling overwhelmed. Currys staff are trained to recognise Sunflower wearers and offer help and more time."

Paul White

CEO, Hidden Disabilities Sunflower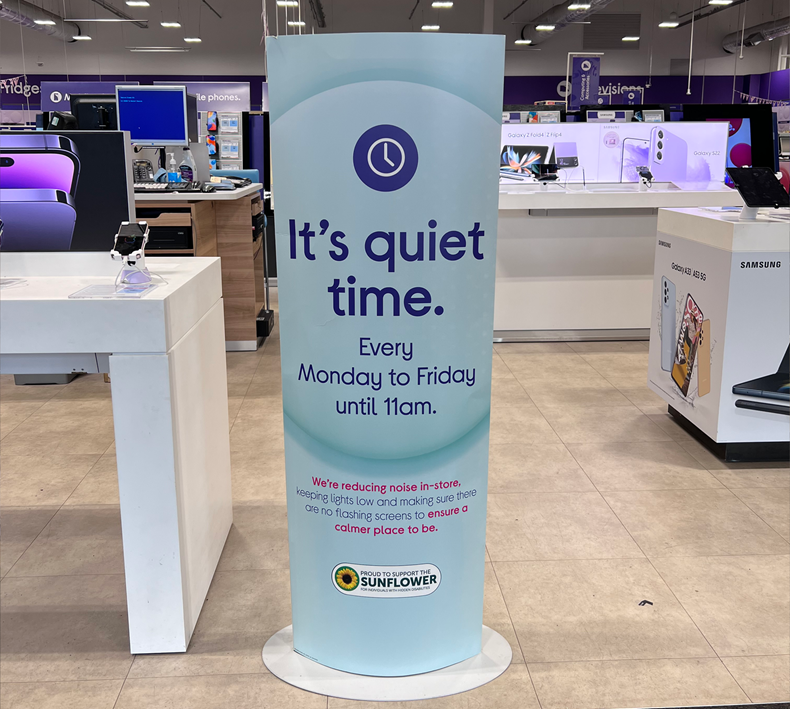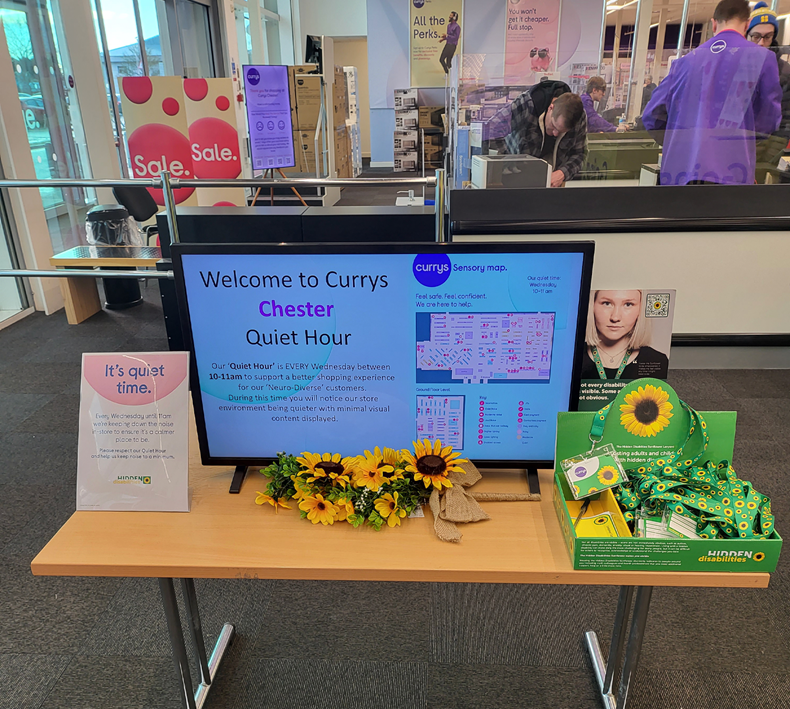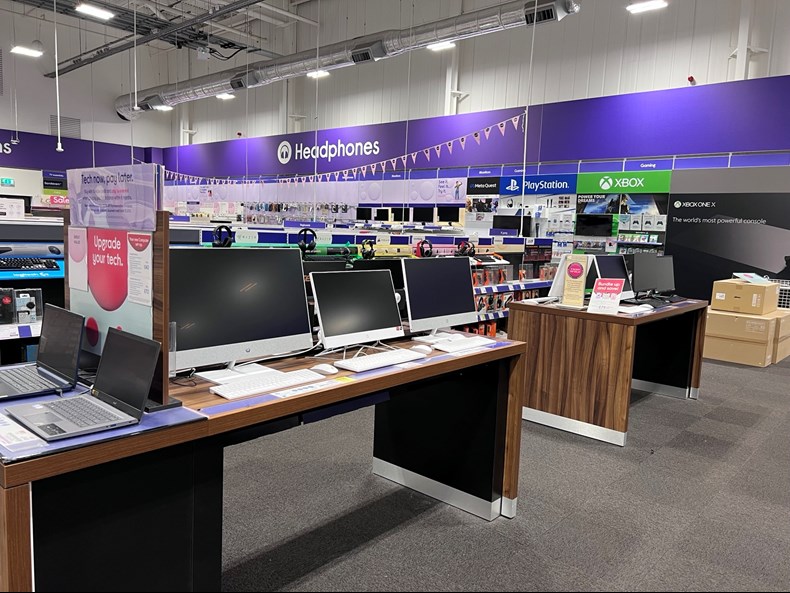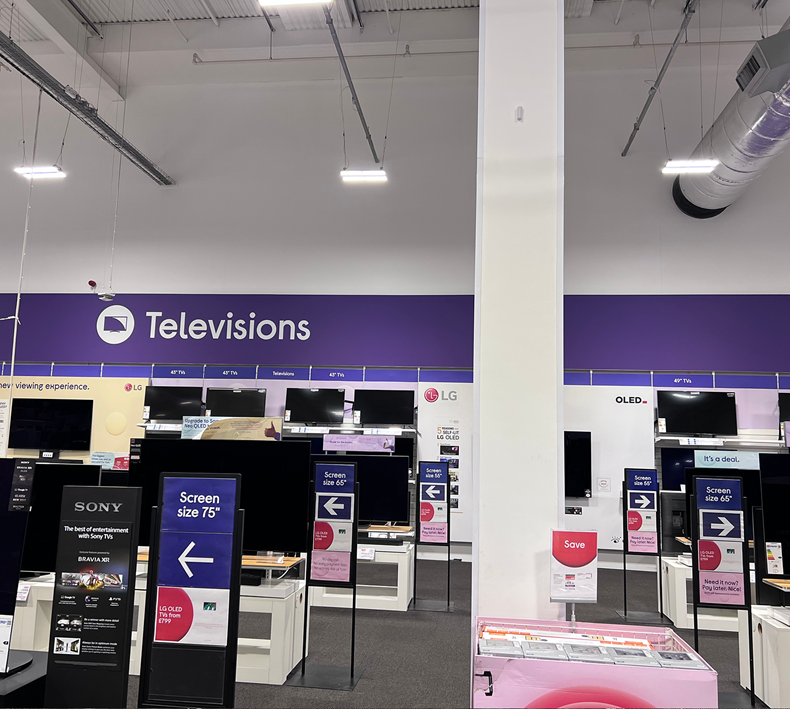 For further information about the Hidden Disabilities Sunflower contact [email protected] or visit hiddendisabilitiesstore.com
About the Sunflower
Wearing the Sunflower lanyard enables individuals to discreetly indicate that they have a non-visible disability and may need additional assistance, kindness, or simply a little more time.
Since the Sunflower was established in the UK in 2016, it has been adopted globally by organisations to support their colleagues and customers. The Sunflower is recognised across a broad range of sectors - ranging from retail, financial services, transport including over 180 airports, travel and tourism, education as well as healthcare, emergency service and entertainment.
The Sunflower is available globally and has been launched locally in Australia, Belgium, Canada, Denmark, Ireland, the Netherlands, New Zealand, the UK and the USA.
The Hidden Disabilities Sunflower is part of Hidden Disabilities Sunflower Scheme Limited, a private company based in the UK
For further information about the Hidden Disabilities Sunflower contact [email protected] or visit hiddendisabilitiesstore.com