We help everyone enjoy amazing technology
We help customers choose, afford and enjoy amazing technology however they shop with us.
As a market leading technology products and services retailer, our vision drives everything we do, in all countries in which we operate.
Customers find technology incredibly exciting, but also confusing and expensive. Our vision goes beyond ensuring customers can choose, afford and enjoy the right tech. We put our purpose at the heart of what we do, using our expertise, scale and reach, to bring technology to everyone.
The assets, colleagues, capabilities and scale that we have means that no one is better placed than Currys to help customers do all this.
Our strategic priorities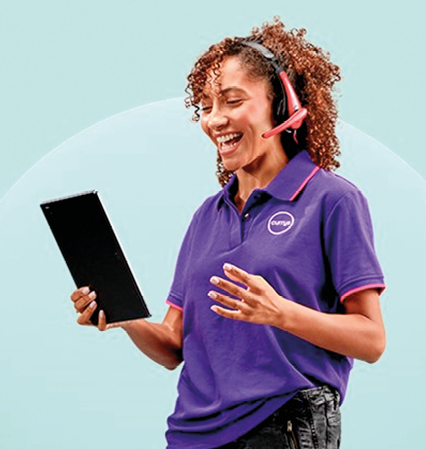 Capable and committed colleagues – our greatest advantage
Happy colleagues make happy customers and happy shareholders, and none of our competitors can match our thousands of expert colleagues.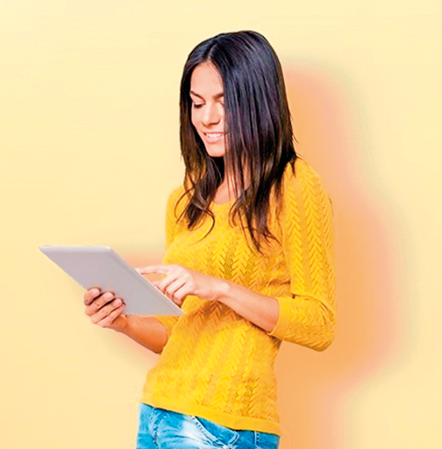 Customers need an easy shopping experience
For our customers, we will be easy to shop. We're strongest when we offer the best of both online and stores to customers, an omnichannel shopping experience.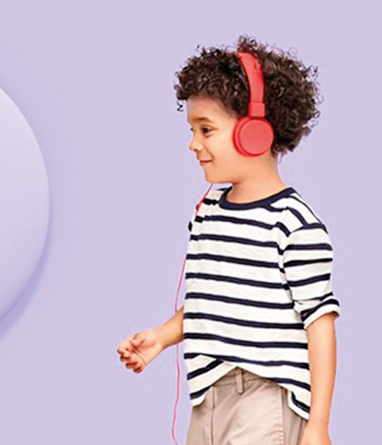 We are building customers for life
We want to be more valuable to customers. This means helping them to afford and enjoy their technology, Our Credit and other Services, fuelled by data, help us build those longer-term customer relationships.
Amazing technology plays a vital role in our customers' lives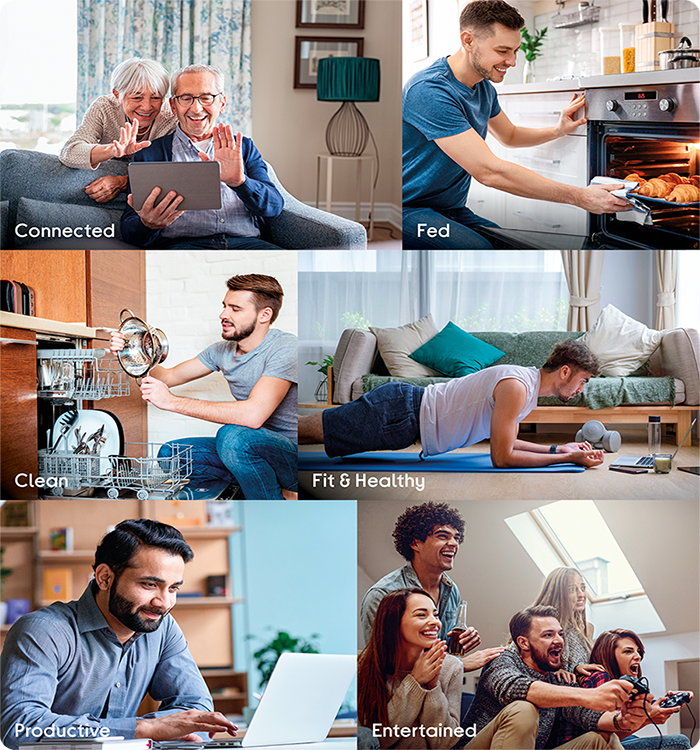 Continuing growth drivers
Hybrid working & e-learning
Home entertainment
Greater usage
Greater familiarity with benefits of new tech
Complementary products and services opportunities
Supplier innovation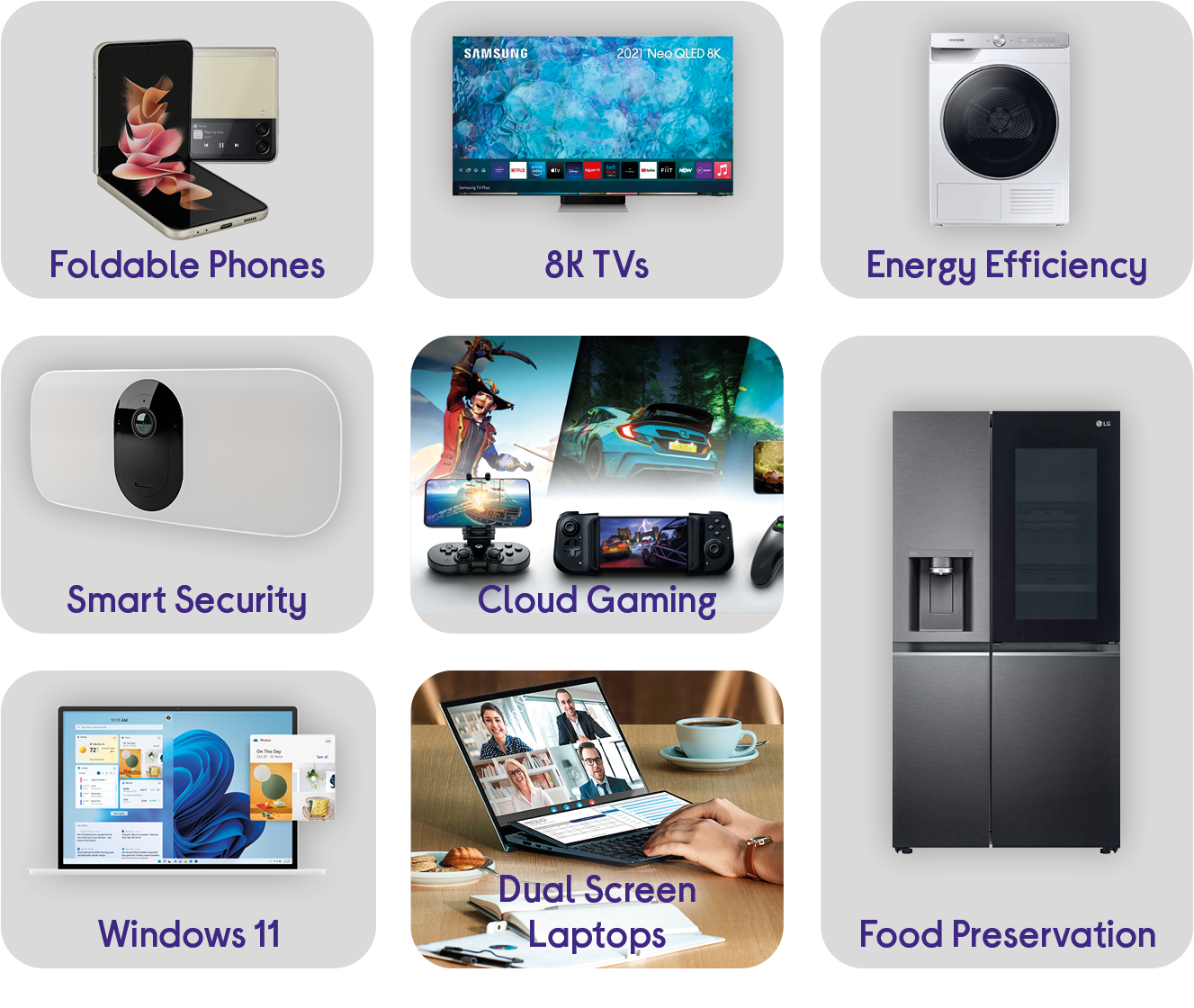 "We are proud to partner with many of the world's largest and most innovative companies. The developments coming from them are incredibly exciting."

Ed Connolly

Chief Commercial Officer
Capable and committed colleagues
Our Capable and Committed Colleagues provide the magic ingredient in helping our customers discover, choose and enjoy amazing technology. Expert face-to-face help is at the heart of why customers shop with us, and that takes skilled and dedicated colleagues.
We have invested, and have committed to invest further in skills, wellbeing and reward programmes for our colleagues because Happy Colleagues make for Happy Customers. It is already yielding great results, becoming a world leader in colleague engagement and with 80% of UK&I customers saying our colleagues are the main reason for a 'great experience'. But we won't stop there:
Ready for the future: for our corporate and commercial we have committed to hybrid with a refreshed working model, reinforcing out commitment to flexible working. Within stores we have transformed the labour model, upskilling 'specialist' staff to develop multi-skilled colleagues so everyone can spend more time with the customer
The home for best talent: we recognise the competitiveness in the labour market but continue to attract and develop talent across the Group; developing our career sites, investing in apprentices and rewarding our colleagues through pay and benefits, and investing in learning programmes for our colleagues
Great place to work: creating a culture of well-being, diversity and inclusion as we listen and respond to our colleagues through increased levels of engagement.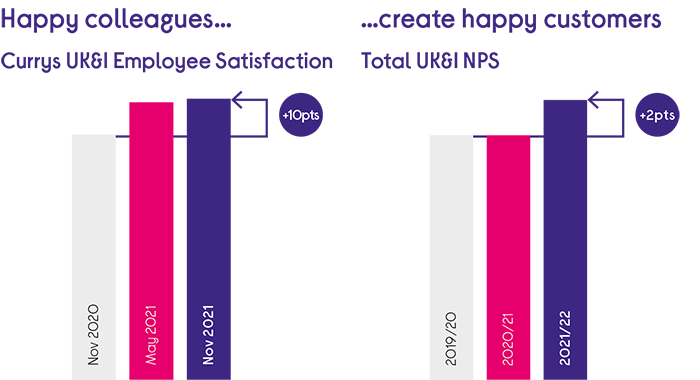 "Happy colleagues make for happy customers and happy shareholders. Our people are at the centre of who we are because it makes us what we are."

Paula Coughlan

Chief People, Communications and Sustainability Officer
Omnichannel
Omnichannel is our strategy to create seamless journeys across all channels, whether that is online, in our 830 stores or using a combination of both channels, we will provide customers an easy and connected shopping experience across the full range of our products and services. Our online business offers customers a 24/7 shopping experience across our full range of products with the convenience of delivery. 
Stores are places of discovery and allow customers to see, touch and feel amazing technology while getting trusted face-to-face advice from our expert colleagues.
Omnichannel is the best of both worlds; customers in-store can access our full range of products and have them delivered to home meaning we are never out-of-stock for these customers, our online customers can pick up products in-store shortly after ordering, providing an immediacy that online retailers cannot match, while ShopLive UK (our 24/7 service in the UK) allows our customers to get the trusted face-to-face advice of our expert colleagues from the comfort of their own homes.
The flexibility omnichannel provides is also what customers prefer. Even through the pandemic, almost half of UK customers used both stores and online during their shopping journey for tech. 
Improving the ease of shopping in both channels will help us grow market share, while delivering the best of both worlds will help us grow sales and improve gross margins.
Store customers cite the ability to see, touch and feel products before buying and the expert advice as main reasons to shop in-store. Online customers cite convenience and availability as main reasons for using that channel. Providing both allows us to serve all customers across our market.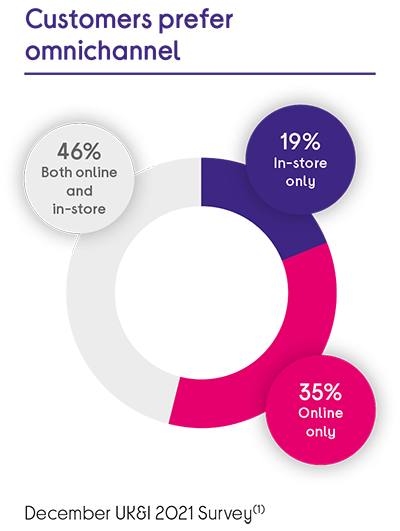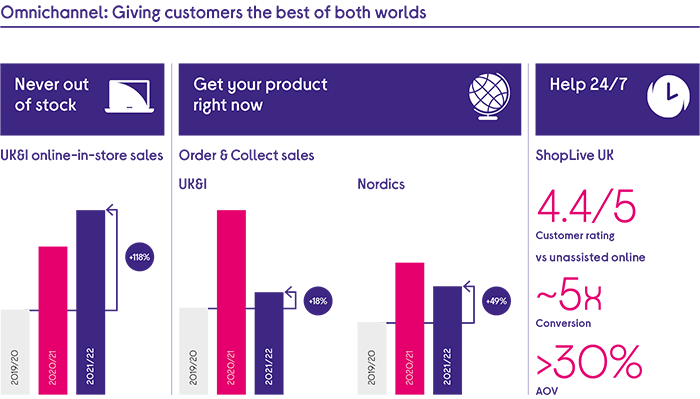 Customers for life
As the leading technology retailer in all our markets, with the ability to serve customers across both channels, we have a significant opportunity to increase our share of wallet. This starts by using data to fuel CRM and personalisation. We are building our customer data in two ways; first through our Customer Club in the Nordics and Currys Perks in UK, we are building a large data set on customers. Second, we are starting the process of joining together disparate customer bases to create a single view of our customers. The combined insight from this will allow us to personalise experiences for all customers and develop propositions that customers value.
The propositions that customers value revolve around our Services. We are uniquely positioned within tech retail to help customers afford tech through credit, help them get started with delivery, installation and set-up, help give tech a longer life through protection, repair, trade-in and recycling, and get the most out of tech through connectivity, subscriptions and tutorials. These Services are profitable on their own, but more importantly they help customers make more sustainable choices and they drive increased customer loyalty. We will evolve our Service propositions to give us more chances to speak to more of our customers more often and therefore increase loyalty and share of wallet.
Over the medium term, growing our share of wallet drives a higher margin as it lowers our net spend on acquiring and retaining customers.
We have a high share of customers but a low share of wallet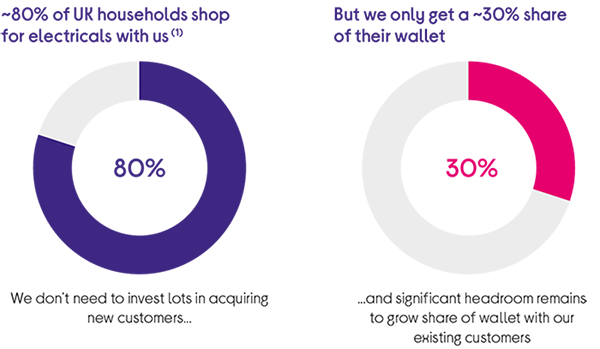 We help you afford the amazing tech
Credit helps customers afford the technology they want, with 12.4% of Group sales on credit in 2021/22.  It also drives loyalty as credit customers are 70% more likely to return than non-credit customers.
We help you get started
In 2021/22 we made 11.7m deliveries, installed 1.4m products and set up a further 900k.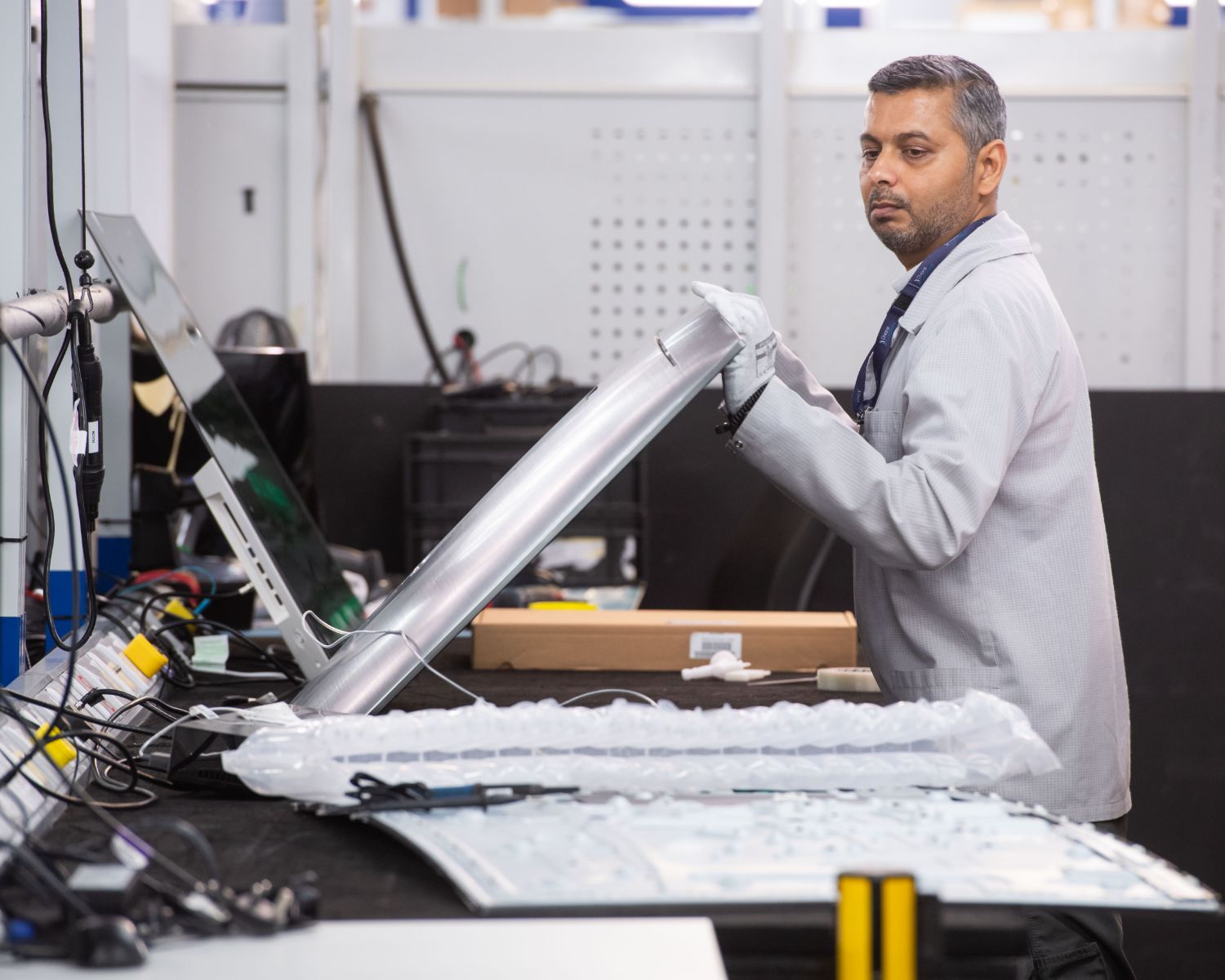 We help give your tech longer life
We currently have 13m active insurance and warranty protection plans, 4.7m of which were sold during the year 2021/22. We also repaired 1.7m products during the year, accepted 145k trade-ins, refurbished 115k items and recycles 103k tonnes of electrical waste.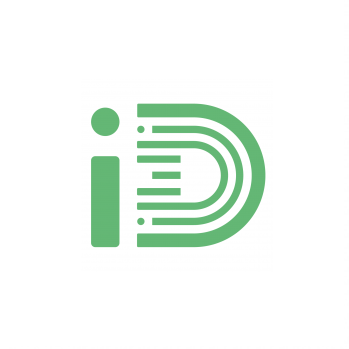 We help you get the most out of your tech
As well as selling amazing tech, we help our customers connect it. That way they can make the most of it. We have over 1.2 million customers on our iD Mobile network, and offer nationwide switching of broadband.
These Services are profitable on their own, but more importantly they help customers make more sustainable choices and they drive increased customer loyalty. We will evolve our Service propositions to give us more chances to speak to more of our customers more often and therefore increase loyalty and share of wallet.