More than three-quarters of people in the UK (76%) feel guilty that they don't recycle properly*
Many have no idea that chargers, hair straighteners, headphones and even everyday items such as batteries can be recycled
Currys is piloting a new collection service with experts on hand at drop-in sessions to raise awareness on how to recycle old tech correctly
The new pilot, Currys Collects, forms part of Currys' ongoing commitment to tackling e-waste in the UK with over 46,500 tonnes recycled by the retailer in the last year alone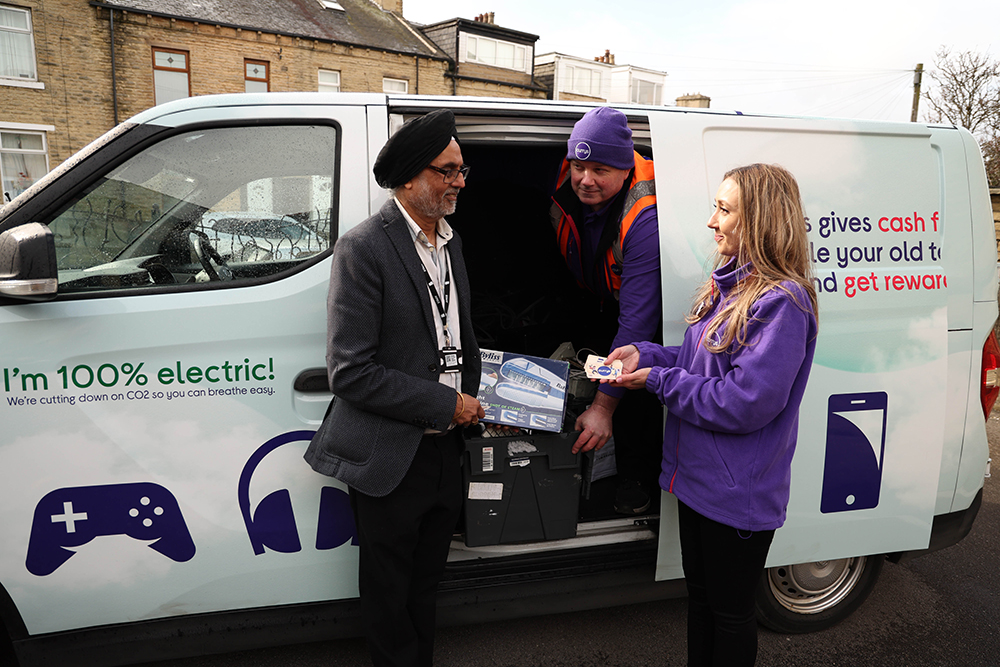 24 March 2023, London - Today Currys, the UK's largest tech retailer, announces plans for a new door-to-door tech recycling service - Currys Collects. The service brings its hugely popular Cash for Trash initiative, which has seen over 46,500 tonnes recycled in the last year, to people's doors, collecting unwanted or broken tech. Disregarded electrical and tech is the fastest-growing waste stream in the UK, with 155,000 tonnes of e-waste thrown in household bins every year**, and Currys Collects is designed to raise awareness of how to correctly dispose of tech devices.
The trial coincides with new research which reveals that 76% of people feel guilty for not recycling tech properly, with 38% admitting that they do not know how to do so correctly. More than one-in-three (35%) 18–34-year-olds, for instance, had no idea that batteries from items such as TV remotes are recyclable. It is estimated that 600 million batteries end up in landfill each year.
The pilot in Bradford*** sees a Currys Collects electric van driving around the city collecting unwanted tech from people's front doors. The van will also park up at the local community centre, Community Works, for drop-in sessions where experts will answer any questions people may have, whilst collecting tech in exchange for £5.00 Cash for Trash vouchers. Items that Currys will be collecting include anything that houses wiring or batteries, included but not limited to; batteries, chargers, cables, beauty appliances such as straighteners and hair dryers, and kitchen appliances like kettles and toasters.
Mandeep Gobindpuri, Head of Circular Economy at Currys said: "We know that people want to recycle – our survey found that 84% of the nation said they would recycle their old tech – but more than half either don't know how to or lack the means to do so.
"Our new service aims to address both issues by collecting and educating the public. And what better time than spring to look into your cupboards for all those idle cables, outdated phones, broken remotes and used batteries. Virtually anything that houses a plug or battery holds value through its materials, no matter how damaged it is. We're hoping to make it as easy as possible to recycle your unwanted or broken tech – and in a small way, help us live more sustainably. We are making great progress on educating the nation about tech recycling and going into 2023, Currys Collects takes that one step further by bringing it right to people's doors."
Jane Lees, CEO at Community Works, Bradford said: "It was fantastic to see the community so keen to participate in the home collections recycling service. We've also seen a fantastic turnout of community members coming to the centre to recycle their old and unused tech to receive a voucher. Times have been particularly hard for the community here in Bradford and it's excellent to see our residents making cash out of old and unused items that can count towards needed appliances. Every little bit counts and helps tremendously."
When it comes to tech and recycling, Currys provides a number of industry-leading services to ensure that old or broken tech is given a new lease of life. Customers for instance can recycle their old tech through Currys' Cash for Trash scheme. Head to your local Currys store and hand in any unused tech, from keyboards and kettles to old charging cables, and receive a £5.00 voucher (minimum spend £25.00 to redeem) that you can use in-store or online.
Any pricier old tech items such as laptops, games consoles and smartphones, can also be traded in at any Currys store for big savings when upgrading to a newer model, many of which are then refurbished and re-sold by Currys as pre-owned items. Currys also provides repair services for a wide range of tech products, from dishwashers and washing machines, to smartphones and TVs, even if they've been purchased elsewhere. Head online or in-store for more details.
About the research
*Consumer research conducted by Research Without Barriers
**In the Environmental Audit Committee's Electronic waste and the Circular Economy report, it states:
- The UK is one of the world's largest producers of e-waste, with 23.9kg produced on average, per head
- There are 190,000 tonnes, equivalent to 527 million small, old, unused electronical items, hoarded by UK households
***Currys asked a group of Brits from across the UK about the things that would make them more likely to recycle the old, unused tech in their homes. More people from Bradford answered 'At Home Collections' than from any other city.