The Prime Minister has heaped praise on the UK's largest electricals retailer, Currys, for its efforts to save customers money whilst continuing its fight against e-waste.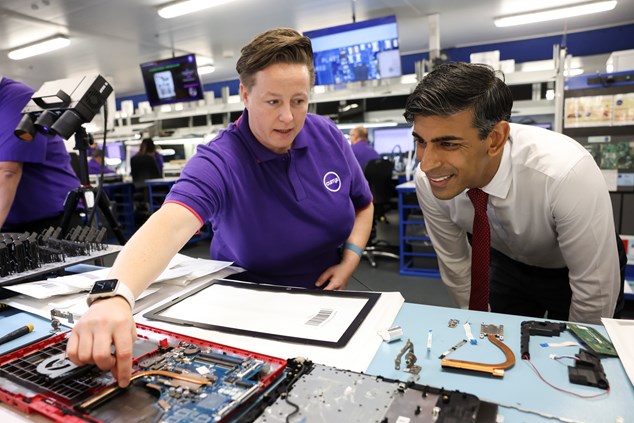 His comments came during a visit to its Repair and Customer Service warehouse in Newark, where he had an opportunity to tour the company's repair lab – the biggest of its kind in Europe, which carries out 2.9 million repairs a year.
The visit, which the PM said "inspired him", provided the chance to learn more about how Currys is changing society's relationship with technology through giving tech a longer life. Rishi Sunak met the colleagues who make this happen through repairing existing tech, as well as recycling a mountain of e-waste collected through Currys' "Cash for Trash" scheme.
Speaking to hundreds of Currys colleagues, Prime Minister Rishi Sunak remarked:
"What's great about what you do, is that is has so much impact on the country. You are saving millions of people a fortune. When you extend the lifetime of their laptop, their TV, or allow them to buy something refurbished – all of that is just putting cash in their pockets.
"And at the same time, you are doing something wonderful for the environment because you are able to find every little bit of these big electronic devices and re-use them and put them back into circulation – great for the environment, great for people's wallets."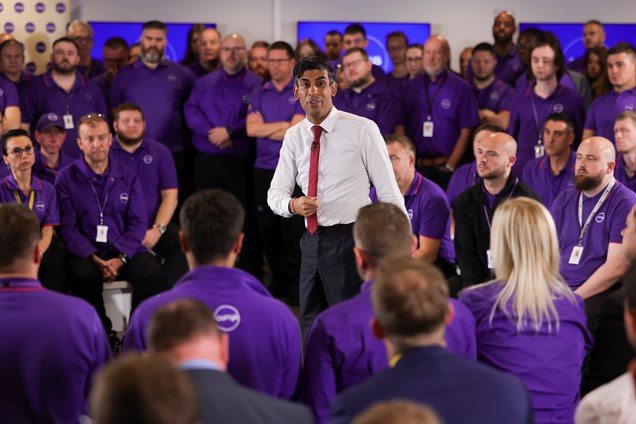 Currys' award-winning 'RepairLive' technology was also on show, demonstrating how technicians in Newark can help guide customers through 'self-repairs' at home, with almost a quarter (22%) of product issues resolved remotely.
A cutting-edge 3D printing programme which allows Currys to print spare parts to repair older products that are no longer fully supported by manufacturers was also on show. Thanks to this innovation, we are keeping a vast amount of technology in circulation without creating any additional e-waste.
Currys' Newark campus also powers the retailer's recycling efforts. Supported by its hugely popular 'Cash for Trash' initiative – which guarantees customers at least £5 (redeemable on a £25 spend) off their next piece of kit when they bring in any unwanted tech into their nearest Currys store – the retailer collected over 60,000 tonnes of unwanted tech in 2022, representing 44% of all retail e-waste in the UK. This makes Currys the number one e-waste recycler.
Alex Baldock, Currys CEO, said:
"It's a testament to the work we do at Newark that the Prime Minister wants to see it.
"Rishi Sunak was bowled over by the skills of our colleagues, the sheer scale of our facility and all the good we're doing - keeping money in our customers' pockets, and protecting the planet, by giving tech longer life. Of course, this is great for our business too, which is in everyone's interest – or as the PM described it, a "win-win".