Here at Currys, we're wasting no time when it comes to our work in the sustainability space. Whether it's starting our journey of selling refurbished technology online, paying customers Cash for their Trash, or helping to combat digital poverty through our work with the Digital Poverty Alliance (DPA), it's been an excellent start to the year.
But we're not stopping there. Another area that's a big focus for us is our mission towards becoming Net Zero by 2040. To support our journey, we're pleased to share that this February we welcomed our first ever Compressed Natural Gas (CNG)-powered vehicle. Its arrival represents another important milestone as part of our EV100 commitment – for which we have set a target of transitioning to 100% electric or alternative fuels for vehicles below 3.5t, and 50% electric or alternative fuels for vehicles 3.5t and over by 2030.
To help us get there, we're trialling a brand new CNG van which started its life with us at our Newark CSC in February. Led by our Supplier Compliance Manager Martin Littlemore and Head of Compliance Chris Georgiou, the project's focus is to ensure we're assessing any low-carbon alternatives to electric vehicles whilst we continue to move away from conventional fossil-based fuels and take further steps towards a de-carbonised fleet.
The van being trialled is an Iveco 7.2t Daily which operates on 100% CNG fuel, more commonly known as biogas (bio-methane). We'll specifically be using a biogas which is a biproduct of the decomposition of food and animal waste – running our vans on this type of fuel could offer large emission savings in comparison to conventional fuels. The van will be used on delivery and installation routes working out of Newark CSC and should see business run as usual, the only difference being that it'll have a lower impact on our planet… over the course of a year, the van will help us to save approximately 8,000 litres of diesel, which equates to a CO2 saving of 37 tonnes!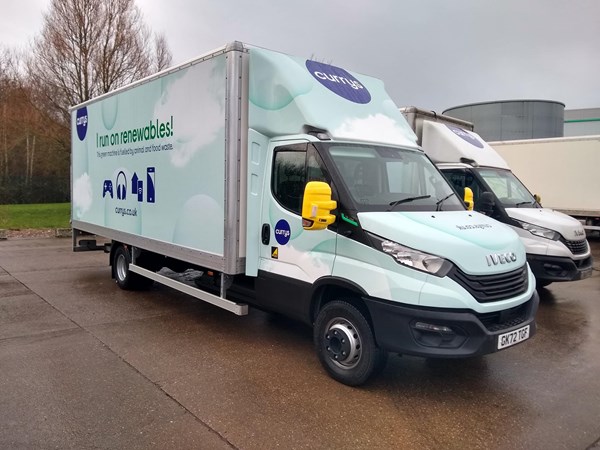 Our new Iveco 7.2t Daily on site at Newark CSC
Right now, we're rolling out the one van on a trial basis – an important test and learn experience, with the plan to scale up our fleet's biogas makeup across the UK this year. Martin, Chris and the team have done a great job working with Iveco as well as a variety of internal teams to bring this next example of how we can de-carbonise our fleet to life. It's a great build on our installation of TRAILAR technology this time last year.
I'd like to congratulate them both for kickstarting this initiative and helping us get one step closer to a de-carbonised fleet! Colleagues at Newark CSC have already enjoyed the first test drives of the van and can't wait to see the new van out and about in the wild.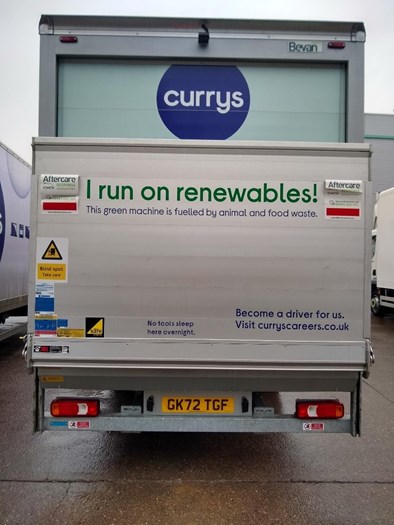 The van will run exclusively on biogas – a biproduct of the decomposition of food and animal waste