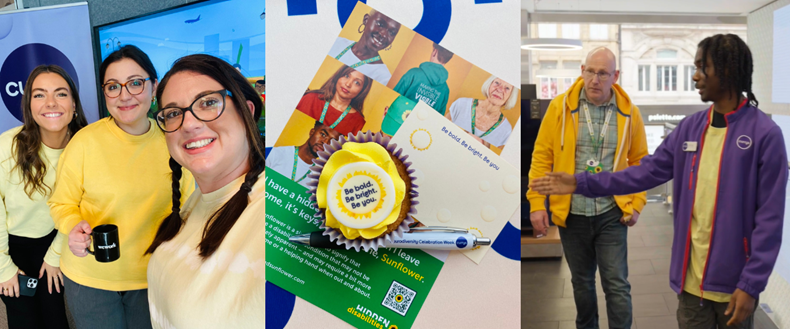 This week saw Currys colleagues across the UK come together to celebrate Neurodiversity Week. From Sunflower events in our Waterloo WeWork hub, to our retail employees wearing yellow, our colleagues pulled together to show their support for the Neurodiverse community.
With the tagline of 'Be Bold, Be Bright, Be You', our goal was to support and empower our neurodivergent colleagues, friends and customers by wearing yellow. From yellow socks to bucket hats, our teams across the UK were showcasing their allyship. But most importantly, this week we wanted to create environments where we could open up the discussion so that people felt comfortable to share the challenges they face and the strengths they're proud of.
Why yellow, you ask? Yellow is the colour of the sunflower, which is the symbol for the Hidden Disabilities network. We're coming up to one year of partnership with the network and following the successful launch of our Quiet Hour initiative, we wanted to continue our momentum for supporting the Neurodiverse community by celebrating Neurodiversity Week across our UK stores and offices. At least 1 in 7 people in the UK have a neurodivergent condition, so it's incredibly important for us to share how we're trying to make our platforms, systems, working environments and strategies more inclusive.
To spotlight this, we interviewed Chris Sadler, who works as a Continuous Improvement Specialist for Currys. Chris had an adult diagnosis of autism and felt empowered to share his journey so far to try and help others who may be struggling in the workplace. You can watch our interview with Chris below, as he joined us at our Oxford Street store to chat about why he's proud to be celebrating Neurodiversity Week with Currys and offers insight into how we can make the workplace more inclusive for all. Currys celebrates Neurodiversity Week 2023
We've still got a long way to go, but we're extremely proud of the progress we've made so far. We'd also like to thank Chris for sharing his story and all our other employees who rallied together to support and celebrate Neurodiversity Week!