This year's Earth Day theme is 'investing in our planet', a call to action that encourages governments, businesses and individuals across the world to make investments that will drive positive change for communities around the world, for animals, plants and the natural systems we rely on.
As one of the UK's leading tech retailers, we've been making investments in the future for decades. But these haven't just revolved around groundbreaking new tech products. We launched our very first repairs service in the 1980s and our commitment to innovation to improve environmental outcomes continues with the unveiling of our broader Long Live Your Tech commitment just last year.
Last week, to discuss these environmental investments as part of a wider panel on funding the concept of circularity, our Group Sustainable Business and ESG Director, Moira Thomas, joined the CFO of Fairphone and Chairman of the Investment Committee for Circularity Capital at The Economist Impact Sustainability Week.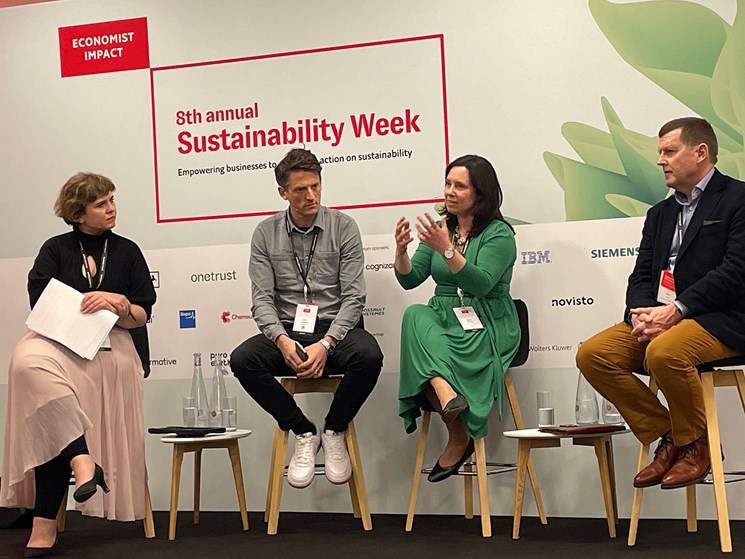 Moira showcased how Currys is working towards a more circular way of doing business, firstly by highlighting our Long Live Your Tech initiatives that center around giving technology a longer life by repairing, reusing and recycling products. She touched on some eye-opening stats that truly emphasise the need for these campaigns, as it is currently estimated that the UK is stockpiling 527 million unwanted electrical items, which shows the scope of the e-waste problem we're experiencing.
Encouraging a shift in customer behavior is key to combating this, and constantly expanding our work repairing, reusing and recycling technology gives us the opportunity to really affect change. For example, our new sale of refurbished technology gives customers a more sustainable and cheaper alternative to shop. Likewise, our 'Cash for Trash' campaign continues to encourage our customers to trade in their old tech in exchange for a £5 store voucher which can be used towards their next purchase. The results so far speak for themselves, in 2021/2022 alone we repaired 1.7 million products and we regularly recycle over 100,000 tonnes of e-waste a year, but we're still aiming for more!
We're constantly looking at innovative ways to drive change, as Moira brought another good example of this to the panel discussion, the trial of our new Currys Collects campaign. This took the Cash for Trash initiative to the next level by bringing it to people's front doors via a unique collection service for unwanted or broken tech, taking 'tech trash' off people's hands whilst also raising awareness of how to correctly dispose of tech devices on a day-to-day basis. By doing this, we're trying to make it as easy as possible for our customers to make good choices.
But it's not just the initiatives themselves that are important, Moira explored how measuring your progress and cross-functional collaboration is also hugely important to effectively reaching a circular economy. Internally, it's critical that we hold ourselves accountable and ensure that our progress in the circularity space is being transparently recorded. That's why the fundamental components of our Long Live Your Tech commitment are recorded in our Annual Report. Each year, we publicly reveal a whole range of data points from the number of customers with our Care & Repair insurance plans (13 million in 2021/2022), to the amount of refurbished products we have sold (which stood at 255,000 in the UK and Ireland alone in 2022).
We have strong governance structures to help us construct our approach. This includes oversight from a new ESG Committee of the Plc Board who review our strategy, and our Group Sustainability Leadership team, made up of leaders from across our business, who help us to drive progress.
Delivering more circular technology is a challenging task, one that requires the whole industry to collaborate. Bringing more sustainable tech to our customers isn't something we do alone, our partnerships with suppliers make a big difference too. In much the same way, it's vital that we are pulling in the same direction as our peers, which is why we joined the Circular Electronics Partnership in 2021. The CEP is setting a clear vision for a circular electronics sector by 2030, something we're passionate about helping to achieve.
From the initiatives themselves, to making sure our progress is clearly trackable and measurable, we're confident we've made a good start, but we've still got more work to do and we're eager to keep up the momentum.
So, that's why this Earth Day we wanted to highlight the importance of investing in our planet. By sharing the important discussions that Moira explored at The Economist Impact Event, we wanted to show how we're striving to do our bit each day whilst also acknowledging how important it is for us all to work together in order to move faster and be more impactful.