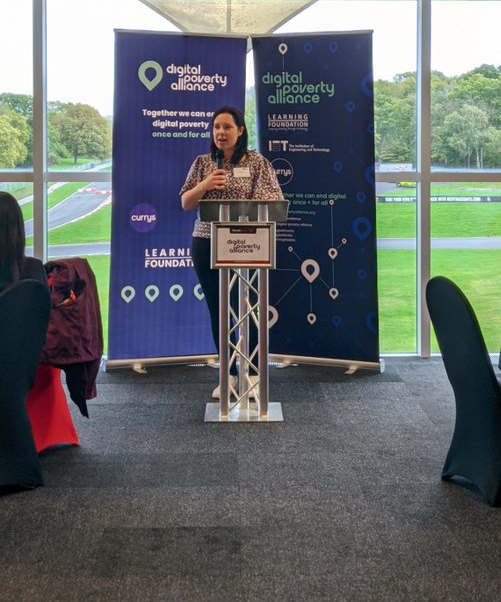 Written By Moira Thomas, Group Sustainable Business & ESG Director
4 November, 2022
As a member of the Digital Poverty Alliance (DPA) Founders Board, and as Currys' Director of Group Sustainability & ESG, I wanted to reflect and celebrate our partnership a year on. At Currys, our vision is to help everyone enjoy amazing technology. It's our purpose, what drives us – and in my case – it's what inspired me to join this business. It has been incredibly rewarding to bring that vision to life with the work we've done with and for the DPA over the last year. It's because of the hard work and dedication of the network that the DPA has convened that digital poverty is finally starting to get the recognition and air time it needs.
When Paul Finnis (CEO DPA) and the team first talked about setting up the DPA, and when Currys became founding partner over a year ago now, I don't think we dared to believe, (while of course we hoped), that we'd ever get anywhere near this much done in such a short space of time. But every single person involved in this project, this agenda, believes so fundamentally in its importance, that there is no such thing as too much of a challenge. It's inspiring.
But most importantly it's working. The DPA is making a difference. It is making a difference for the people whose lives have already changed for the better, the 1,650 teachers supported through the pandemic and beyond, for the prison leavers, and for the hundreds of families who've received laptops through the pilot of Tech4Families1.
And we are going to need to continue to make a difference for those whose lives are about to get a lot harder, especially as we face into the winter months.
But we are building on a firm foundation. Funding and starting the DPA in lockdown, fully remotely, with an initial goal of getting laptops to teachers with lockdowns and global supply chain issues, well, some people thought we had bitten off more than we could chew. But we didn't let that deter us. In a way the complete digital nature of how we first started working on this galvanised us to work more urgently.
We all became acutely aware of the big, dark digital poverty chasm the pandemic had opened up. I can still vividly remember the teachers I met when personally delivering devices to schools in and around our office in London. They were profoundly grateful, over the moon – and in some cases – quite literally jumping for joy. The Tech4Teachers programme continues. But the digital poverty problem goes far beyond teachers.
It's a macro issue that needs systemic change.
Now is a critical time to make commitments and to really act. For the past year and a half, we have had massive government change to put it mildly, a global healthcare crisis, inflation and a cost-of-living crisis spiralling out of control with no off switch. It is a startling backdrop, and only makes it even more important to stay positive and take positive action.
Because the work we are doing is incredibly positive. We are changing people's lives.
But we need the government's support and we have a real opportunity right now, with the network we've convened and the weight of that behind us, to engage with this new government and with the opposition.
We sponsored the DPA's fringe events at the Labour and Conservative party conferences and took some really positive connections and ideas from these events. But most importantly, we were present, and while we look to further raise the DPA's profile, visibility is a really valuable thing. We've now got to keep up that engagement and encourage policymakers to see the value in taking digital poverty seriously.
Because I think that's still part of the problem. There's a perception amongst some policymakers, and anyone that doesn't really 'get it' that digital poverty is a problem they can't solve. And that perhaps, one that they just don't see the value in solving. It's easy to look at a problem this big and just think it's too expensive and too difficult to fix. We need to switch that, to try and make people understand that addressing digital poverty is a huge opportunity. It's a huge opportunity both economically and societally. And most importantly, it's an opportunity that if not taken up right now, will lead to even more dire circumstances for those living in digital poverty.
One of the actions and next steps we are committed to taking is in awareness. The DPA just exhibited at our Peak conference event in Liverpool, where over 1,500 of our store managers across the country come together with suppliers to celebrate everything Currys.
The DPA is a really fundamental part now of the Currys family, so it's natural we wanted them to be a part of our biggest and most important event of the year. We talk about the power of our network, and this event gave our colleagues a chance to really get to know more about digital poverty and to understand our relationship better, so that they feel super-charged about our mission – and encourage those all-important Pennies donations at the till.
Since May this year we have raised almost £125,000 in donations through Pennies – that's just shy of half a million individual donations. That's an incredible number of people who are now aware of the DPA and digital poverty, up and down the country.
And as a way to drive even more awareness of and donations for the DPA, we are launching a Christmas campaign in-store over the next month with ALL funds raised going to the DPA.  It really shows how committed we are. It's the same for our gift cards this Christmas. For each sale we will give a 1% donation to the DPA.
I mentioned earlier how rewarding it has been to bring to life our vision in our work on digital poverty. But I'm a Director of Sustainability, it's part of the job description to care and push for change, so it's no wonder I find it rewarding when we're making a difference. But really what's at the heart of the matter is that the most rewarding thing of all is to see others - our colleagues - getting mobilised behind these thorny, challenging issues… to see them getting stuck in, coming up with ideas and inspiring others to join in too!
So that's one of the biggest things we at Currys are going to take into the next few months, as well as our Christmas campaign, is making sure our whole network is fully on board with our mission to end digital poverty. That's 15,000 people educated and inspired – that's our pledge.
We've got a lot of work ahead of us, but we're determined to do so much more and with all the determination of the DPA network, I know that we will succeed.
To read all about the DPA's work over the past 12 months, read their 'One Year On' report2.
---
Sources:
1Working with Currys to provide vital Tech4Families (digitalpovertyalliance.org.